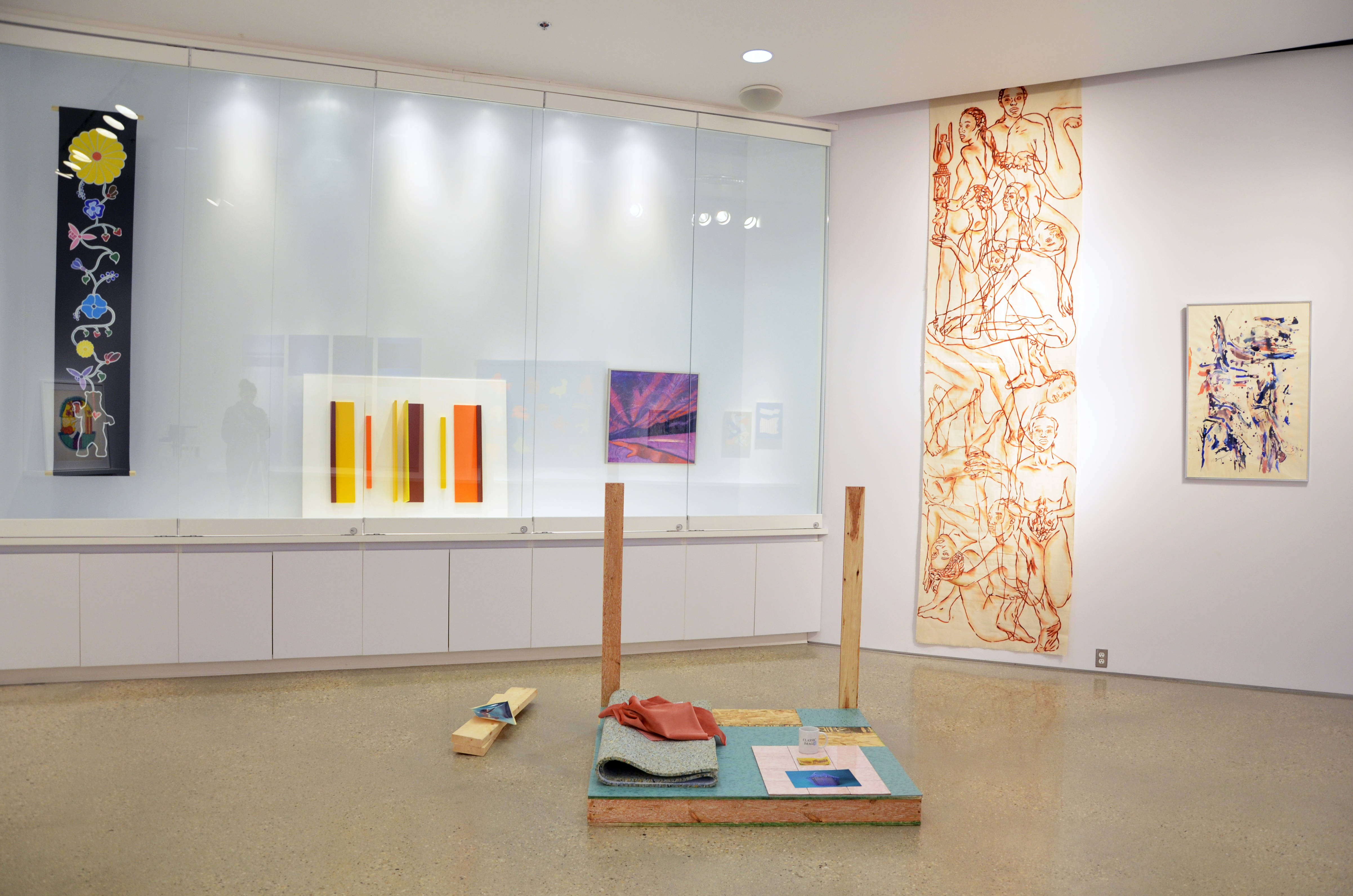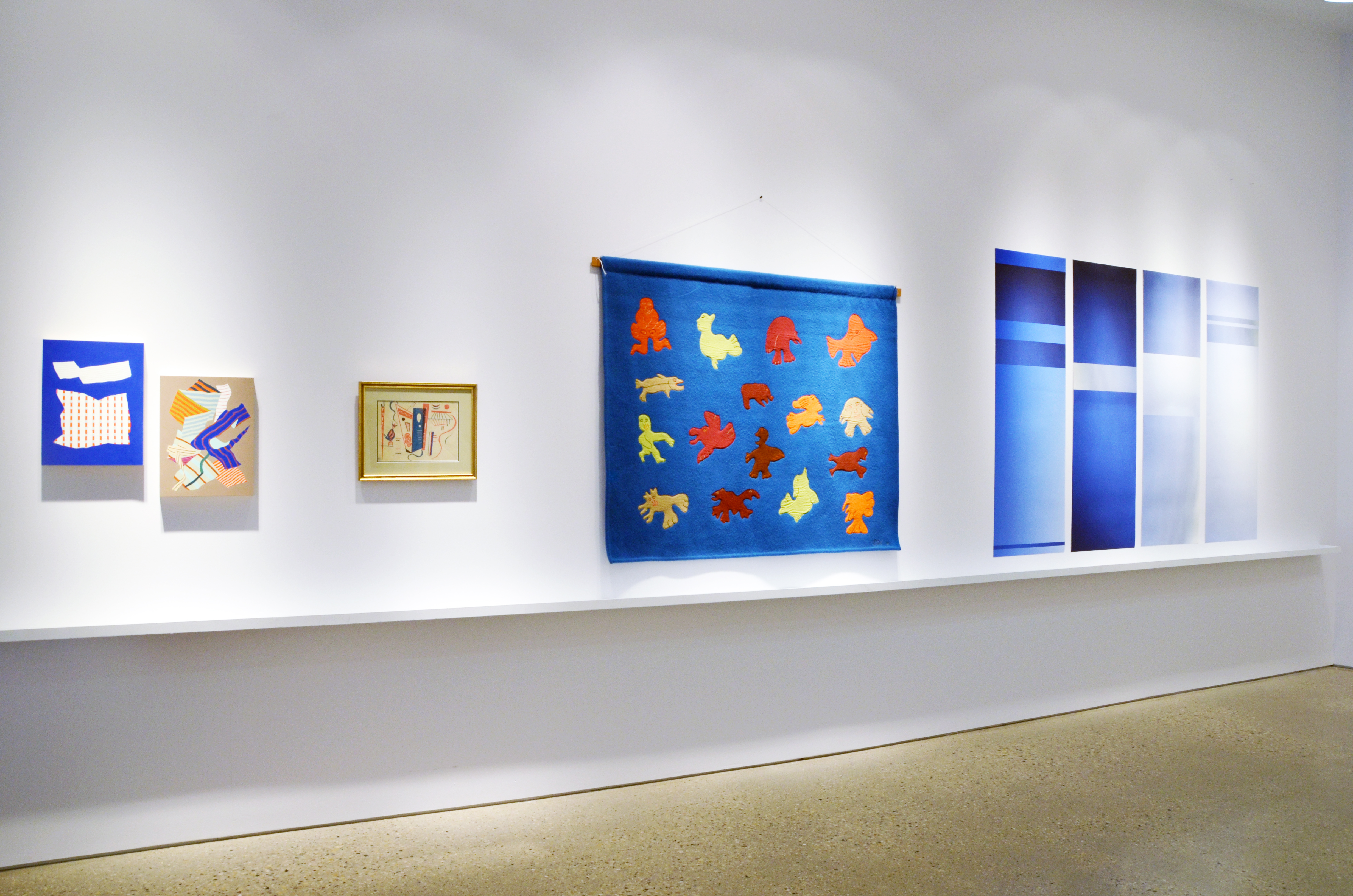 She Presses a Flower to Her Cheek:
A Feminist Revistioning of Colour Theory

School of Art Gallery | February 13 – March 8, 2019
Featuring works from the Permanent Collection by:
Judith Allsopp | Josef Albers | Patricia Fulford | Emily Halluqalik | Wassily Kandinsky | Wanda Koop | Audrey Ann Riller | Elizabeth Willmott
And Artists from the School of Art's Community: Alyssa Bornn | Leigh Bridges | Cassancra Cochrane | Janine-Annette Littmann | Ekene Maduka | Hanna Reimer | Liv Valmestad

In 1901, the little known American artist Emily Noyes Vanderpole published her book Color Problems: A practical manual for the lay student of color. Disguised under the genre of flower painting and decorative arts, (subjects considered appropriate for a woman of her time), Vanerpole's 400-page tome provides a comprehensive overview of the key ideas related to colour theory at the time, as well as her own original approaches to colour analysis and interaction. Seeming to stumble upon a minimalist aesthetic and mid-century modernist design decades prior to the conception of these movements, her ideas would later be popularized by men. Indeed, working some 50 odd years after Vanderpole, art historical icons such as Josef Albers and Wassily Kandinsky are now prevalent names within Western art departments.

Reflecting on the immense and ongoing work that is being done to bring female voices into prominence within art historical canons, the exhibition She Presses a Flower to Her Cheek: A Feminist Revisioning of Colour Theory begins from within the School of Art Gallery's permanent collection while thinking through the legacy of women artists and their work with colour theory and design. Considering the flower - one of nature's most intense sources of colour, and a universal symbol of the female or the feminine, and in turn, the role of colour in female life; in her wardrobe and textiles, her makeup, home interior, and many other facets of everyday life, the exhibit references art historian Linda Nochlin by asking "why have there been no great woman colour theorists?"

Responding to the lack of work by female artists in the SOAG's permanent collection, the exhibit enlists the work of 7 contemporary Winnipeg based artists in pointing towards the thoughtful and carefully considered use of colour and design within female art practises. Creating an intergenerational dialogue between historic and contemporary female artists, the exhibit examines the ways in which colour has been used to understand and communicate a sense of outer and inner worlds and emotions.

Please join us at the School of Art Gallery from February 13 to March 8, 2019, in celebrating the vibrant and joyful work of 13 female artists in dialogue with prominent colour theorists Kandinsky and Albers.
For more information, you can view the exhibition brochure here:
http://umanitoba.ca/schools/art/1123.htm
Copyright © All rights reserved.